Hardware Support: Protrak Grapevine System
Supported Hardware
Modules
Protrak Grapevine Nodes (1-127)
Limitations
Fast Clocks are not yet supported. If you have one and want to test it with JMRI, let us know.
Connecting
Settings
To configure the connection:
Open the JMRI "Preferences" under the "Edit" menu
On the Connections tab, select "Protrak" as the System Manufacturer
As the System Connection select either

Grapevine (ProTrak) Layout Bus
Grapevine Simulator

Click "Save" & restart
Before you can access a Grapevine Node in JMRI, you have to define it to the program. You can do this either from the Preferences window (under Edit in the main menu, click "Configure Nodes") or using the Configure Nodes tool in the Grapevine menu.
Grapevine Systems Names start with a system letter of "G". After that, there's a type letter, then a node number and a pin number.
Naming and input/output connectors are described on a separate page.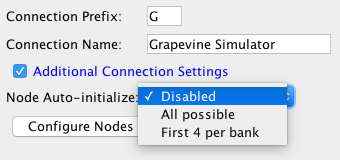 If desired, check "Additional Conection Settings" and select an option for "Auto-initialize" to have Simulator generate automatic replies from node inputs/outputs:
Disabled
All possible
First 4 per bank
JMRI Grapevine Tools
The Grapevine menu gives access to:
Communications Monitor
Send Command
The Node Table tool to check whether your Grapevine is working and configure the connected Nodes.
The Configure Nodes tool.
Documentation
Third Party info
---